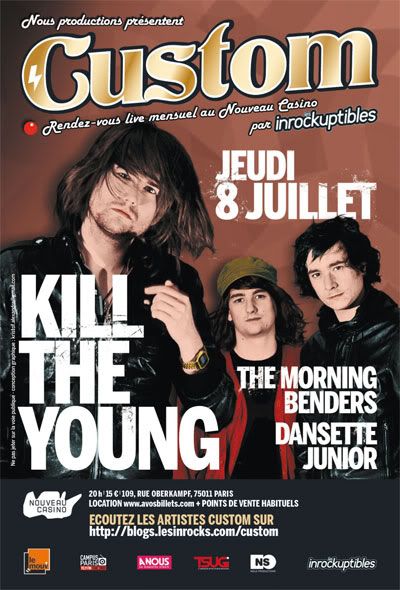 Cela faisait longtemps que je n'avais pas fait une soirée Custom, je ne venais pas spécialement pour Kill The Young, mais bien pour
The Morning Benders
, dont l'album
Big Echo
fait très plaisir à écouter.
En discutant avec une jeune inconnue devant le Nouveau Casino, je me suis rendu compte qu'inconsciemment, j'avais dis qu'ils avaient qu'un seul album (alors que je savais très bien qu'ils ont d'autres albums)
Big Echo
surclasse quand même les autres albums du fait de sa qualité, dans les compositions mais aussi dans la production. Les covers sont très bien aussi!
Rapide retour sur la soirée.
Dansette Junior (UK)
Le trio électro anglais Dansette Junior ouvrait la soirée dans un Nouveau Casino presque vide. Dire qu'ils ont commencé direct par :
"We want everybody dancing!!"
le genre de truc que t'évite de dire quand tu joues devant 15 personnes quoi.
Bon sinon, j'ai trouvé le groupe pas assez up-tempo pour de l'électro, ça groove pas assez. Cependant, j'ai bien aimé les 2 dernières qui relevaient le niveau...
Fight Fire with Fire
!
The Morning Benders (US)
Enfin! Nous, pauvres français, avons eu notre première date
(ou alors je n'étais pas au courant avant)
des Californiens de
The Morning Benders
, qui ont ramené le son des vacances, plages, soleil
toussa.
Leur pop a ramené pas mal de monde, puisque la salle était très bien remplie. Malheureusement, ils n'auront droit qu'à 40 minutes vu qu'ils jouaient en deuxième position.
The Morning Benders, ça donne quoi en live ? Très bien, voir mieux que sur le CD même!
Ils joueront exclusivement des morceaux de
Big Echo
(normal vu le temps imparti!) dont
Promises
qui me fait penser à du Grizzly Bear (Chris Taylor y est pour quelque chose) ou encore ma préférée :
The dance song
All Day Daylight
.
Seule une cover du Fleetwood Mac,
Dreams
, restera le seul figurant de
The Bedroom Covers.
J'affectionne particulièrement cette chanson car : Fleetwood Mac est l'un des
meilleurs groupes
de Classic Rock, et surtout The New Pornographers a repris cette chanson en
hidden track
sur leur album live.
The Morning Benders - Dreams (Fleetwood Mac)
Le chanteur du groupe, Christopher Chu, nous a dit qu'ils reviendront d'ici l'automne. C'est noté!
Ils finiront par leur single, et objectivement la meilleur chanson :
Excuses
, dont le public parisien chantera en chœur les
"La La La La lalalala!"
The Morning Benders - Excuses

Kill The Young (UK)
Le trio originaire de Manchester n'a pas atteint ma sensibilité personnelle, ce n'est plus trop ce que j'écoute en ce moment. Et comme je ne connais pas, je ne vais pas trop m'étendre hein.