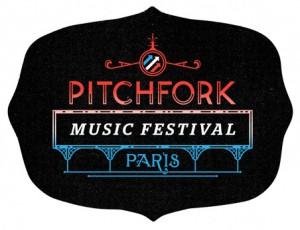 Ayant terminé la soirée aux alentours de 6h du mat', le réveil vers midi fût un peu (voir beaucoup) rude.
Mais ce n'était pas trop un problème vu que la deuxième journée du
Pitchfork Festival Paris
était beaucoup plus axée folk, la journée étant
curated par Bon Iver
(qui n'a pas choisi de punk rock ou d'électro malheureusement).
La qualité est en revanche toujours là avec :
The Rosebuds, Kathleen Edwards
(
Mme Vernon
),
Stornoway
, le grand (euphémisme)
Jens Lekman, Lykke Li
puis
Bon Iver
pour clôturer le festival.
The Rosebuds (US)
Je connais un peu
The Rosebuds
car ils sont signés chez Merge, j'ai été surpris de les voir sur l'affiche tellement ce groupe tourne jamais en Europe, d'ailleurs, ils sont venus expressément de Caroline du Nordpour le festival.
A la base, Ivan Howard et Kelly Crisp étaient mariés. Le destin en a voulu autrement et ils ont fini séparés, mettant The Rosebuds en hiatus. Voulant continuer à sortir des albums dans une relation simplement amicale, c'est donc le contexte qui entourera la sortie de
Loud Planes Fly Low
, un album indie pop classe, assez proche des groupes comme
The Clientele,
qui sont eux
aussi chez Merge.
La configuration était un trio guitare-piano-violon très agréable, le groupe n'ayant presque pas de mauvais morceaux. On regrettera cependant le manque de monde à cette heure de l'après-midi.
Kathleen Edwards (CAN)
Kathleen Edwards
devait faire la première partie de Bon Iver sur la tournée européenne. C'est donc logique qu'elle était invitée par son boyfriend au festival.
Avec pas mal d'albums alt-country plutôt agréable, son style m'a paru un peu semblable à Neko Case (
redheads!)
qui peut plaire à ceux qui aime bien le genre.
Entre 2 chansons, elle a réussie à caser
Feeling Yourself Disintegrate
, grosse chanson emo des Flaming Lips, à ma plus grande satisfaction.
Elle annoncera son retour au Divan du Monde en 2012 ainsi qu'un nouvel album dans la poche.
Stornoway (UK)
Je n'aime pas
Stornoway
sur disque, je n'ai pas aimé leur concert à l'
Electric Picnic
2010 mais rien n'a changé depuis. Je trouve leurs chansons inintéressantes, tout comme le chanteur qui raconte ses visites au musée en France et dans le monde.
Seriously,
quel ennui...
Jens Lekman (SWE)
Peut-être le concert que j'attendais le plus du weekend, revoir
Jens Lekman
sur scène après son excellent concert au Nouveau Casino l'an dernier, accompagné de son
backing band
parfait.
Entre temps est sorti l'EP
An Argument With Myself
avec des nouvelles chansons que des privilégiés ont pu entendre en live l'année dernière.
Jens a la tendance à changer ses lives d'une tournée à l'autre, soit seul sur scène, soit avec sa troupe saxo/violon et tout le toutim.
Cette fois-ci, il était accompagné d'un batteur pour un rendu assez étrange au début, mais son humour m'a vite fait oublié l'absence des violons, lui qui les utilise tellement sur ses morceaux.
Qui a déjà vu un chanteur s'auto frapper ou parler de bouffe dans ses morceaux tout en restant sérieux ? "For years,
I thought Jens Lekman was some kind of joke singer"
dixit un
rédacteur de DiS
.
Jens nous introduira aussi l'histoire sur la chanson de Kirsten Dunst
Waiting for Kirsten,
qui devait faire la queue comme tout le monde à Göteborg et qu'il n'y avait pas de file VIP pour les stars. Ayant été cet été à Göteborg, j'aime beaucoup quand
environ
90% de ses chansons parle de la ville suédoise.
Les morceaux tapaient un peu partout dans sa discographie et ses nombreux EP (dont Julie
dédicace @JLMNR
) mais Jens a montré qu'il y avait encore des morceaux sous le coude pour son futur album (Golden Key, Cowboy Boots).
La fin du set finira en apothéose à partir de
The Opposite of Hallelujah
(avec les violons samplés), Jens parait intouchable et tout-puissant sur scène, jetant 3 conffetis dans le public visiblement conquis.
Gros thumbs up à la cover de Ten City,
That's The Way Love Is
, magnifiquement enchainée avec
Sipping On The Sweet Nectar
...
Jens, ce héros de l'indie pop
Setlist:
I Saw Her In The Anti-War Demonstration
A Sweet Summer's Night On Hammer Hill
An Argument With Myself
Waiting For Kirsten
Julie
Cowboy Boots
Black Cab
Golden Key
The Opposite Of Hallelujah
That's the Way Love Is (Ten City cover)
Sipping On The Sweet Nectar
Lykke Li (SWE)
J'attendais beaucoup du concert de la suédoise
Lykke Li
, moi qui l'a tant loupée en festival cet été.
J'avais bien révisé ses 2 albums que j'aime bien mais j'ai eu beaucoup d'échos mitigés sur ses concerts
"C'était génial, une furie!"
côtoient également les
"C'était chiant à mourir"
.
Finalement, j'ai trouvé le set bien lisse et très poussif (
I Follow Rivers
en sourdine ?), assez sombre dans le décor et dans l'ambiance mais très peu d'émotions, c'était pas la bête de scène à laquelle je m'attendais. Lykke Li est peut-être la plus grosse déception du jour à mes yeux...
Bon Iver (US)
Bon là, c'est le moment délicat car je n'aime pas
Bon Iver
sur CD. Je n'aime pas sa voix, mais j'étais pas contre pour le voir en live, bien au contraire !
La Grande Halle était archi comble, il faut dire que son concert prévu au Trianon était soldout en quelques minutes, malgré le prix (30€!).
Au final, un magnifique
backing band
de 8 personnes, avec Colin Stetson au saxophone..et quel saxophone!
Le chant était quasi parfait, les chansons rendaient très bien en live malgré la salle :
Que dire de plus à part que c'était très bien ?
Belle communion à la fin où le public chantait en chœur les
What might have been lost
de
The Wolves (Act I And II),
nice way to end a nice festival !
Top :
- Jens Lekman
- Pantha du Prince
- Real Estate
- Bon Iver
Flop :
- Stornoway
- Lykke Li
- Problèmes techniques (?!) de Cut Copy
- Le manque d'ambiance à Fucked Up