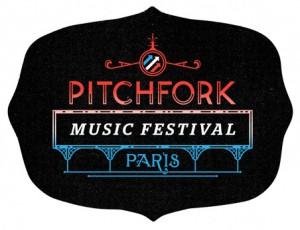 Festival nouvellement crée cette année, le
Pitchfork Music Festival
s'est déplacé de Chicago vers la Grande Halle de la Villette à Paris sur 2 jours, avec une programmation assez éclectique même si assez axée électro cette année.
Personnellement, lors de l'annonce en juillet dernier, lorsque j'ai vu qu'ils ramenaient
Jens Lekman,
j'ai acheté
sans réfléchir
mon pass 2 jours.
On ressent quand même l'influence du site web dans le monde tant le public était quasiment composé d'étrangers.
Iceage
ayant malheureusement annulé à cause d'une blessure,
Team Ghost
s'est chargé de les remplacer au pied levé, s'en est suivi de
Fucked Up, Real Estate, Wild Beasts
ou encore
Aphex Twin
pour l'un de ses rares concerts dans la capitale.
La seconde partie de soirée était composée de
Pantha Du Prince, Cut Copy, Four Tet
(DJ) et
Erol Alkan
(DJ).
Team Ghost (FR)
Souvent cité comme ex-M83, le groupe de Nicolas Fromageau a eu la lourde tâche d'ouvrir le festival avec 30 minutes de retard, devant quelques personnes qui ont pu avoir leur demi-journée.
Il n'a cependant pas trop changé de style puisque c'était assez shoegaze mais difficile de se faire un vrai avis quand on ne connait pas !
Fucked Up (CAN)
On passe tout de suite à la catégorie supérieure avec
Fucked Up
et l'imposant
mais toujours cool
Damian Abraham, probablement le groupe qui m'excitait le plus ce jour-là.
Pour mon 5ème live, le son était assez ignoble et surchargé, Damian "
Pink Eyes
" a quand même su redonné le sourire aux premiers rangs avec ses frasques, plutôt soft comparé aux
manginas
et la casse de verre sur le front
(je vous laisse checker cela sur Google.)
Spéciale dédicace aux plaisanteries sur la Poutine
, best junk food ever,
peu de gens l'ont compris, seuls les vrais savent !
Je savais qu'il y aurait pas une ambiance comme à Osheaga ou au Way Out West où il y avait quelques mosh pits bon enfant, seulement quelques fans ont pu chanter dans le micro (moi plusieurs fois!)
Petite amertume : Un set un peu court et des vigiles dans la fosse qui ne voulaient pas que Damian vienne bousculer un peu, je n'ai pas trop compris pourquoi on lui a ordonné de remonter sur scène après la première chanson...
C'est là qu'on regrette d'avoir louper leur concert de
12 heures
...
<center><iframe width="400" height="305" src="http://www.youtube.com/embed/VliQdVG6nWw" frameborder="0" allowfullscreen></iframe></center>
Real Estate (US)
Venu spécialement tout droit du New Jersey pour l'occasion, le public s'est rapidement amassé dans la Grande Halle pour
Real Estate
, à l'origine groupe de reprises de Weezer selon leur interview dans Magic.
Certains n'avaient sans doute pas le choix de venir plus tôt et n'ont pas pu se libérer avant et c'est dommage !
J'ai trouvé leur set au Primavera Sound 2010 assez dispensable, puisque je ne m'en souvenais même pas que je les avais déjà vus.
En revanche, cette fois-ci était presque irréprochable, j'aime beaucoup le second album qui est plus mélodique que le premier, très frais, un son chaud et mélancolique :
Days
me fait penser parfois au Teenage Fanclub post-97 et c'est évidemment un album que je recommande !
Washed Out (US)
Je suis très loin d'être un fan de
Washed Out
, son électro me touche pas vraiment et cette fois-ci son set était à grand coup de
boom-booms
et d'incitations à faire bouger le public. Disons que je préfère la disco-funk de Toro Y Moi, vu qu'ils sont souvent rattachés au mouvement
"Chillwave"
.
C'était un peu Cut Copy sans être l'usine à tubes.
Wild Beasts (UK)
4ème fois que je revois
Wild Beasts
, un groupe que j'ai découvert l'année dernière à Dour.
Avec leur 3ème opus, le groupe a bien changé (physiquement pour le chanteur Hayden Thorpe) et a désormais une certaine notoriété, ce n'est que justice vu que ce qu'ils font est vraiment pas mal :
We Still Got The Taste Dancin' On Our Tongues, All The King's Men ou encore
Hooting & Howling sont addictifs à la première écoute.
Pour les nouveaux morceaux, ils ont embauchés Katy Harkin (de Sky Larkin) au clavier mais le mix est tellement mal dosé que j'ai toujours l'impression qu'elle fait figuration.
D'ailleurs, le son de la Grande Halle était particulièrement mauvais, en tout cas, ce n'était pas aussi clean qu'à l'ATP l'année dernière.
Le set était trop court,
End Come Too Soon
n'a jamais aussi bien porté son nom.
Aphex Twin (UK)
Richard D. James aka
Aphex Twin
était présent pour la première édition, lui qui donne très peu de concerts et se fait plutôt discret dans les médias. Depuis le temps qu'on m'en parle, en festival surtout, j'étais quand même ravi de voir la légende de l'électro au moins une fois.
En tout cas, avec Maynard Keenan, c'est l'un des mecs qui me fait le plus flipper, ses clips sont bizarres (merci Cunningham), c'est surtout sa tendance à mettre des têtes de psychopathes partout.
Son show visuel était en partie composée d'images du public, et aussi d'images en référence à la France (Hélène et les garçons, Mireille Mathieu) et d'autres trucs divers comme Carla et Sarko avec les têtes qui font peur, alternées avec celles du public...rajoutés aux strobelights surpuissant, il y avait de bonnes chances de devenir épileptique après son concert.
J'ai passé la première partie du concert à l'extérieur (la fatigue et surtout pour pouvoir tenir toute la nuit), on sentait les structures vibrer fortement tellement son son était surpuissant.
Entre temps, je suis allé m'acheter des hot-dogs à l'unique stand du festival (
not cool
) et j'en ai pris plein les oreilles, même au fond de la salle.
Pour ses 10 dernières minutes, il est passé au niveau supérieur et j'ai rarement vu un set d'une telle violence, j'ai mis 20 minutes à m'en remettre après être passé me laver le visage pour reprendre mes esprits.
Pantha Du Prince (GER)
Je n'avais pas trop accroché aux disques de
Hendrik Weber aka
Pantha Du Prince
mais j'ai été agréablement pris dans l'étreinte de son live minimal et hypnotisant.
Le minimal c'est simple : soit on est dedans, soit on trouve ça chiant !
Avec son acolyte qui contrôlait et filmait minutieusement des pièces métalliques, le set de l'allemand (derrière sa capuche) était peut-être le meilleur de la soirée. Le début de set était assez bizarre (avec en prime : les relous bourrés...), mais à un moment, on a clairement senti qu'il avait passé la vitesse supérieure pour le plus grand plaisir des premiers rangs.
Cut Copy (AUS)
Deuxième groupe que je ne voulais surtout pas manquer :
Cut Copy
, l'art de créer des disques efficaces et catchys à souhait.
Avec le retard cumulé depuis le début du festival, Pantha du Prince qui a débordé de 15 minutes et des problèmes techniques qui a porté le retard à plus d'une heure, la fête était déjà gâchée vu le nombre d'abandons et la fatigue qui se fait ressentir.
Moi j'étais clairement impatient et puis j'ai commencé à devenir nerveux au bout d'un moment... le gros soulagement quand le groupe a fini par monter sur scène vers les 3h, même si certains ont sifflé et une tension était ressentie. Les membres n'affichaient pas une bonne mine, la fatigue ou bien eux aussi énervés des problèmes.
Le groupe, sans rien dire sur les problèmes rencontrés, à enchainé les tubes du dernier et excellent
Zonoscope
avec ceux d'
In Ghost Colours
repris en chœur par le public.
Pendant la montée de
Lights & Music
, le son se coupe d'un coup.
Le public ne comprend pas, montre du mécontentement. Moi j'ai d'abord cru à une coupure de la régie à cause du retard accumulé mais finalement le groupe revient pour 2 titres... 4 titres de la setlist sont en revanche passés à la trappe.
En tout cas, cela me donne encore plus envie de les voir à un concert ou à un festival à une heure correcte.
La soirée finira dans les transats, au son de l'excellent mix de
Four Tet
, j'ai moins aimé
Erol Alkan
, trop club pour moi.