Nombreux ont été vos messages pour prendre des nouvelles : ce post atteste que je suis sauf et ceux avec qui j'ai pu faire le festival aussi.
A moins d'avoir hiberné ces derniers jours, vous êtes sans doute au courant du drame durant le premier jour du Pukkelpop 2011 où une violente tempête s'est abattue sur le site du festival.
Je n'avais pas prévu d'y retourner cette année jusqu'au coup de folie qui m'a motivé à demander une invitation pour voir Destroyer à Pukkelpop (Soldout 3 mois avant cette année) et tant qu'à faire les Foo Fighters, Rise Against et pleins d'autres : gros line-up!
La journée était très ensoleillée, étrange car on avait vu à la météo qu'il y aurait de la pluie, de l'orage mais j'étais équipé, tous les festivals que j'ai fait cette année étaient humides (voir très).
On se tate pour prendre les bottes le matin mais on décide de ne pas les prendre vu le ciel bleu et dégagé.
Je me moquais même des personnes avec des bottes lors du concert de White Denim sur la Main Stage alors qu'on crevait tous de chaud.
S'en suit une suite de bons concerts comme on a l'habitude au Pukkelpop : Destroyer, set de 5 chansons mais les 5 meilleures (Bay of Pigs...!), The Wombats (pour le LOL) et Explosions In The Sky qui ont été vraiment puissants mais bon, je n'ai pas vraiment envie de revenir sur les concerts (et vous non plus je pense).
Pendant Explosions In The Sky, assis dans l'herbe, je me rends compte du ciel qui s'obscurcit, je demande si c'était mes lunettes de soleil ou moi : non c'est bien un sale temps qui se prépare.
En sortant du concert suivant : le ciel n'était plus nuageux mais noir, pas une simple pluie mais un violent orage se préparait.
J'avais décidé d'aller d'attendre le début de Panic! (18h25) puis d'aller voir Smith Westerns à Chateau pour attraper la fin de leur set.
A 18h20, les premières gouttes de pluies s'abattent sur le festival, tout le monde se rue dans les tentes du festival pour se mettre à l'abri. Alors qu'on était en pleine journée d'été, le ciel devient noir comme la nuit, puis
jaune chaos
:
la fin du monde
.

La pluie s'intensifie de plus en plus puis viendra les rafales de vents violents qui projeta les gouttes de pluie à l'horizontale, traversant toute la tente.
Voyant la scène et la tente en train de violemment tanguer, les hurlements de panique et d'excitations (oui oui!), j'observe attentivement la structure de la scène pour savoir si c'était solide. La réponse était clairement non, la tente tient sur des barres métalliques mais rien de bien solide.
Comme je ne voulais pas finir sur Youtube (Drame de l'
Indiana State Fair
en tête), on a décidé de s'enfuir dehors en courant vers les stands de bouffe.
Une sorte de gros RUN FOR YOUR LIFE comme dans les films...
10 minutes
d'apocalypse
/comme en enfer/tout ce que tu veux :
C'est alors le moment que les grêlons de la taille d'une balle de ping-pong ont décidé de tomber, cumulés aux rafales et aux débris volants non identifiés, je peux assurer que ça pique. Entre subir ça ou prendre le risque de se manger la tente, le choix était vite vu.
On voyait à peine à 10 mètres devant tellement c'était dense et violent, de toute façon, on restera tête baissé jusqu'à la fin de la grêle.
J'ai encore cette image du festivalier en tshirt sans kway, recroquevillé sur lui-même en fermant les yeux, de peur et de froid. Oui, moi aussi j'avais froid et peur, peur que la Marquee de Panic! s'effondre avec le public à l'intérieur ou que les arbres voisins craquent sur nous.
J'ai vécu pas mal de tempêtes en festival mais une comme ça : jamais!

Après cette vague de violence, on retourne à la Marquee visiblement intacte pour essayer de reprendre ses esprits. De longues minutes d'incompréhension dans la tente, pas mal de monde ne réalisant pas encore l'ampleur des dégâts (moi le premier).
C'est alors qu'un officiel prend la parole au micro, dit quelque chose en flamand dont on ne comprendra pas grand chose, on voit le public se retourner pour je ne sais quoi, on a juste compris les hués du public mécontent.
On se dit alors que le festival est interrompu mais lorsqu'on sort de la tente, on aperçoit Chateau, la scène indie où jouait Smith Westerns avant que la tempête commence, totalement effondrée.
Gros moment de panique car des amies y étaient dès le début et surtout pour savoir s'il y avait eu des blessés. Je demande alors à la sécurité qui me dit "everybody was evacuated"... vu la façon dont elle m'a sorti ça, j'avais encore des doutes puisqu'aucune tente n'a été officiellement évacuée.
Tentative de contacter par sms : impossible, plus de réseau.



Gros moment de stress donc, on décide de faire un tour du festival pour voir l'étendu des dégâts : des mares de boue partout, des structures métalliques effondrée, arbres déracinés (et pas des petits), le stand Proximus dévasté (j'ai appris par la suite qu'un
immense arbre
était tombé sur le stand) et
The Boiler Room
où jouait Skrillex pliée en 2 telle une baguette.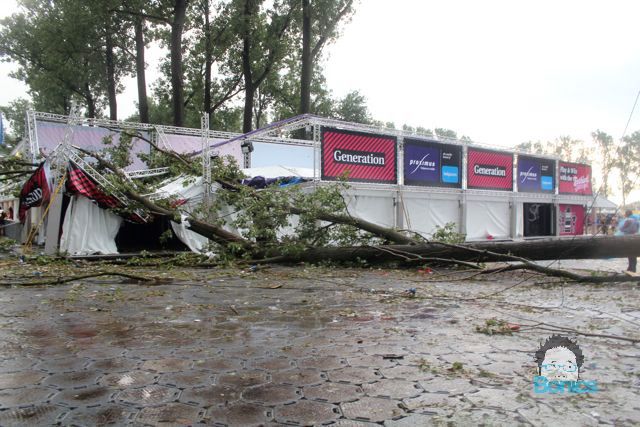 Le site du DJ Bonics a des bonnes photos post-catastrophe

On nous informe ensuite que seul la Main Stage et le Dance Hall fonctionne mais que Rise Against est annulé. On attend alors une heure dans le champ de ruines, en attente de nouvelles, dans l'ambiance glauque et la confusion qui régnait sur le site.
Après réflexion, on décide de retourner au camping voir l'état des tentes. Sur le chemin, un barrage bloque la route, on demande ce qu'il se passe "Les pompiers coupent les arbres", plus tard on apprendra qu'un festivalier a été tué par un arbre tombé sur sa tente dixit un voisin wallon, sachant qu'on ne choisit pas l'emplacement de sa tente, c'est encore plus triste.
Il nous expliquera aussi comment s'était déroulé ses 10 minutes en enfer : écran géant qui s'écroule, Club tent qui s'envole même avec ses piquets de 20 cms...
On retrouve donc nos tentes partiellement inondées, plongée dans un site qui ressemble plus à un marécage, il a plus environ 36l/m² en 20 minutes!!
"Cette quantité de pluie tombe en l'espace d'un mois" dixit le commandant des pompiers de Hasselt, Bert Swijsen.




On comprend alors l'ampleur des dégâts, j'entends 1 mort, 2 morts, 7 morts, tout le monde essaye de chopper les nouvelles à la radio ou sur les smartphones.
Moi, toujours sans réseau, j'ai compris que c'était passé aux infos et que pas mal de monde devait se faire du soucis pour moi. Je n'ai pu donner des nouvelles qu'à partir de 01h à la première personne qui m'a textée et reçu un sms rassurant des amies à la scène Chateau pendant la tempête.
La fin de soirée n'a finalement pas eu lieu, moi je n'étais franchement pas motivé, même pour un concert des Foo Fighters... j'étais juste soulagé que tout mes amis n'ont pas été blessés, voir pire, vu les circonstances.
Je repense encore à mon choix de schedule, si j'avais été à Chateau directement, un pilier aurait pu m'écraser si le groupe n'avait pas décidé d'arrêté son set après 1 chanson.
On décide quand même de passer la nuit au camping, il y avait des rumeurs de tempêtes durant la nuit, elles se sont avérées vraies : 4
violents orages
, fortes pluies mais pas beaucoup de vent fort heureusement, je vous dit pas l'état du camping...
Skin de Skunk Anansie : "le moment le plus effrayant de mes 20 ans de carrière"
On entend vaguement un officiel parler dans un mégaphone en flamand et sa traduction en anglais : Building, Extra buses, trains et que la journée de demain était toujours prévue "...Heu ok"
Ils ont dit ça pour éviter les mouvements de panique car la gare de Kiewit est très minuscule, je salue le professionnalisme sur ce coup-là.
Une dernière pensée aux proches des victimes de ce drame extraordinaire, qui aurait fait un drame sur n'importe quel festival.
Je ne comprends pas qu'on veuille tout le temps chercher un responsable, c'est la nature, c'est ainsi. Je salue donc la décision des organisateurs
d'annuler Pukkelpop 2011
par respect aux décédés et aux blessés, il y aurait
5 morts et plus de 70 blessés dont 10 graves
à l'heure actuelle.
Lien vers la page de soutien du Pukkelpop : Pay your respects