S
orti le 02 juin 2009,
Hombre Lobo : 12 Songs of Desire
est le 7ème album du groupe américain
Eels
. Est-ce nécessaire de le présenter ? Qui ne connais pas au moins une chanson des chansons du groupe, devrais-je plutôt dire Mark Olivier Everett alias
E
et ses musiciens.... entre les BO de
Shrek
ou bien le tube
Novocaïne for the Sou
l.
Le titre "
Hombre Lobo
" veut littéralement dire "
Loup-garou
" en espagnol, référence à sa barbe de plus en plus impressionnante depuis quelques années. (et oui c'est bien lui sur la pochette...
pochette qui fait d'ailleurs référence à une célèbre marque de cigare cubain, E étant un grand amateur de cigares.
Hombre Lobo
sort 4 ans après leur dernier album
Blinking Lights and Other Revelations
, s'en est suivi d'un Best-of (que je recommande
fortement
.)
Tracklist :
Prizefighter

That Look You Give That Guy

Lilac Breez

In My Dreams

Tremendous Dynamite


The Longing

Fresh Blood

What's a Fella Gotta Do

My Timing Is Off

All the Beautiful Things

Beginner's Luck

Ordinary Man
Hombre Lobo commence par
Prizefighter
, une bonne chanson pop un chouilla garage rock qui donne la pêche, bien entrainante et survoltée où l'on peux entendre E crier tel le fameux
"Hombre Lobo"
.
"Elle devient de plus en plus inquiétante sa barbe :D"
Enchaine une chanson typique du style Eels,
That Look You Give That Guy
, une ballade calme comme il sait si bien faire, avec un air déjà entendu dans le subconscient...
(J'ai encore rêvé d'elle ?
...) C'est également la chanson préférée de Mark.
On reprend la route du garage avec
Lilac Breeze
un gros son de basse bien gras, une batterie qui sonne comme une boîte à rythmes (qui deviendra saoulant à la longue...) mais la rythmique est là et le titre donne autant la pêche que le 1er titre.
Il y aura un enchainement constant rock-ballade dans l'album,
In My Dreams
ne déroge pas à la règle, une chanson tranquille mielleuse.
"I'mmm... El hombre lobo"
s'écrie E dans
Tremendous Dynamite
, un titre garage bien crade tel un bon
White Stripes
, ça se sent que l'enregistrement s'est fait à la maison. C'est mon titre préféré de l'album, le refrain est de la vraie
Dynamite
!!
The Longing
est la berceuse, comme un
I Need Some Sleep
, le morceau le plus
tender
de l'album.
Le premier single de l'album est
Fresh Blood
, et ça sonne grave
Dandy Warhols
(Plan A)
écoutez-vous même ! J'ai même du vérifier que mon Ipod ne déconnait pas ! un style peu habituel du pop-songwriting habituel.
Grosse influence blues sur
What's a Fella Gotta Do
, Un mix entre la rythmique de
Kick Out The Jams
et les riffs des
Black Keys
(Dan Auerbach sort de ce corps ! d'ailleurs ça vient surement de la barbe...)
L'album s'enchaine sur 2 titres typiques pour les prochains films
Dreamworks :
My Timing is Off
et
All The Beautiful Things
, pas vraiment original mais ça s'écoute.
Beginner's Luck
est la chanson la plus catchy de l'album, je suis sûr que c'est un futur hit du groupe, la mélodie accompagne magnifiquement la
smoking voice
de Mark. Une chanson simple mais efficace.
Hombre Lobo se finit par
Ordinary Man
, qui nous rappelle que E is
Human After All
.
A écouter :
Prizefighter, That Look You Give That Guy, Tremendous Dynamite, Fresh Blood, The Longing, Begginer's Luck.
Verdict :
Un album double facette, tel le loup-garou qui se transforme à la lumière de la Lune. Entre garage rock sale dominée par la "boite à rythmes"
(Prizefighter, Lilac Breeze, Tremendous Dynamite, What's a Fella Gotta Do)
, tristesse et solitude
(That Look You Give That Guy, In My Dreams, The Longing, All The Beautiful Things et Ordinary Man)
,
Hombre Lobo
est un album qui se laisse écouter, même si Eels innove pas tant que ça. Certains titres sont trop semblables... à cause de la batterie. On sent que son coté "Beck" a pris le dessus.
Les morceaux type
"Saturday Morning"
sonnent mieux que la partie rock d'
Hombre Lobo
, c'est clairement un cran en dessous de la tuerie qu'est le
Best-Of.
La voix est toujours aussi agréable, c'est ce qui fait tout le charme et l'originalité du groupe depuis une décennie.
L'album contient des bons tubes, un peu trop prévisibles parfois, mais E a vraiment un song-writing remarquable.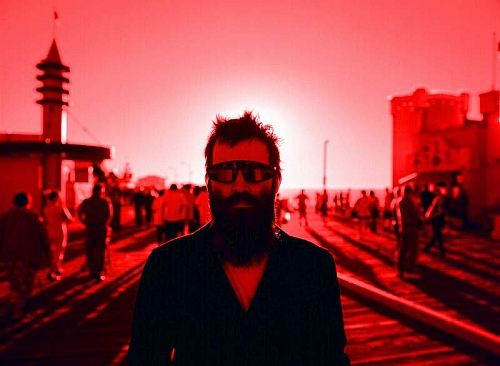 5.5/10
Spotify
LastFM