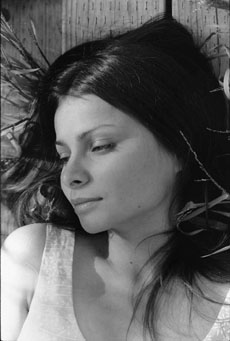 A
urais-je la fâcheuse habitude d'oublier, la nouvelle année commencée, d'excellents albums sorti l'an passé... loupant aussi le concert unique avant un bon bout de temps : La réponse est
OUI
.
Je ne connaissais pas du tout
Hope Sandoval
, chanteuse au très beau prénom du groupe défunt de dream pop des 90s
Mazzy Star
. A vrai dire, je ne connaissais que de nom Mazzy Star mais voulant élargir mes goûts musicaux
(merci Beach House
), j'ai voulu essayer ce genre musical unique et Hope Sandoval est
LA VOIX
qui caractérise parfaitement ce mouvement.
J'avais toujours eu un sale a priori sur la dream pop vu que le shoegaze y est souvent rattaché (à tort) et que le shoegaze...c'est tout ou rien avec moi.
L'histoire veut que Mazzy Star s'est séparé après la sortie du troisième album
Among My Swan
(1996) et que Hope a formé un autre groupe avec le batteur de
My Bloody Valentine
Colm O'Siosiog
:
Hope Sandoval & The Warm Inventions
.
Le groupe a 2 albums à son actif :
Bavarian Fruit Bread
sorti en 2001 et le dernier album
Through The Devil Softly
paru l'année dernière donc.
Les 3 très bons albums de Mazzy Star et les 2 albums "solo" d'Hope ont à peu prêt la même sonorité... une voix fluette accompagnée d'une guitare acoustique et d'harmonicas qui fait totalement planer à la première écoute.
La voix d'Hope a su garder la même douceur tout en ayant un coté "voix d'expérience", elle donne toujours l'impression que tout se passe au ralenti, un vrai état de grâce en quelque sorte...
Hope Sandoval & The Warm Inventions - Suzanne (de
Bavarian Fruit Bread, 2001)
Évidemment, j'ai adoré toutes ces merveilleuses découvertes et j'adhère définitivement au courant dream pop "acoustique". Malheureusement pour moi, Hope est déjà venu à Paris en Novembre au Café de la Danse et c'était complet... (Enfin ce n'est pas une mauvaise chose car je ne serais probablement pas revenu vivant de cette expérience)
Last.fm