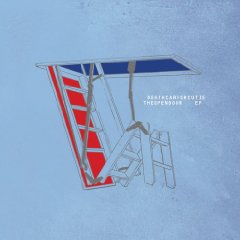 Début Mars, le groupe nous annonce la sortie d'un
EP
d'ici la fin du mois. (Le 31 Mars en version digitale pour être pointu sachant que la version physique est annoncée pour le 14 Avril)
Étant grand fan depuis quelque temps
(Mes charts LastFm ne diront pas le contraire)
, plus exactement depuis que je me suis penché sur leur discographie aux compositions riches (
Transatlanticism
en 2003,
Plans
en 2005 et
Narrow Stairs
en 2008)... la nouvelle m'a bien sur réjoui.
Histoire de bien faire monter la pression, le groupe mettait en streaming sur
Stereogum
un titre de l'EP chaque jour (ou presque) avant la sortie digitale de l'album.
Tracklisting:
1. Little Bribes
2. A Diamond And A Tether
3. My Mirror Speaks
4. I Was Once A Loyal Lover
5. Talking Bird (Demo)
N'ayant pas la patience d'attendre la fin du mois (plutôt 4 jours..) je me suis précipité sur l'écoute de cet EP.
ICI

Un EP très propre comme on a l'habitude avec DCFC depuis 2003. A posséder pour tout fan d'indie US! La version de
Talking Bird
au Ukulélé est meilleure que celle de Narrow Stairs selon moi.
My Mirror Speaks
possède un rythme imposé par la basse vraiment entrainante
.

A Diamond And A Tether
, c'est plutôt la douce ballade folk est très appréciable.
I Was Once a Royal Lover
est aussi pas mal, j'apprécie vraiment la guitare très noisy,
mais Little Bribes
ne me fait par contre pas plus d'effet que ça.
Points négatifs car il en faut : on reste un peu sur notre faim, un EP de 5 titres ça reste court... il n'y a pas de chansons mélancoliques au piano comme dans
Plans
, je dirais qu'il est du même niveau que
Narrow Stairs
(les titres de cet EP sont tirés des sessions d'enregistrements de
Narrow Stairs
)
5.8/10