Pour finir l'année, le traditionnel top concerts et première partie de 2013, qui n'a pas été une année de tout repos. J'ai vu encore des tas de groupes, des surprises tels que The National au Point Ephémère ou encore mon retournement de veste sur Bring Me The Horizon où j'avais quand même un sale a priori. Le set s'est révélé être une véritable messe, avec un public fanatique et un chant qui était très bon en live.
Des concerts drôles grâce à des stage banter exceptionnels, les premiers noms qui me viennent sont évidemment Tegan and Sara et Into. It Over. It en full band.
Il y a eu aussi des grosses déceptions comme Iron and Wine, devenu trop jazzy et ennuyeux, sans oublier le non-concert provocateur de The Knife.
20. Johnossi (Le Batofar)
Chouette concert du duo suédois devant un public clairsemé mais pas moins fanatique. Les espagnols devant chantaient très fort et j'ai particulièrement apprécié l'expérience et la maitrise du set de Johnossi.
Le duo joue quand même dans des très grosses scènes en Allemagne et ça fait plaisir de voir ce genre de groupe dans un lieu tel que le Batofar.
19. Neko Case (La Boule Noire)
Etant un gros fanboy de Neko, j'attendais son retour en France depuis... beaucoup trop longtemps. Malgré un concert plus que passable au Primavera cette année, je lui ai laissé une seconde chance dans le cadre d'un vrai concert.
Avec un solide album sous le coude et un backing band au top (Eric Bachmann d'Archers of Loaf à la guitare svp!), j'ai été charmé par sa voix unique et une setlist vraiment excellente où l'on a pas le temps de s'ennuyer une seule seconde.
18. The Postal Service (Le Trianon)
Retour en grande pompe pour Ben Gibbard de Death Cab For Cutie et Jimmy Tamborelo (Dntel) avec la première tournée live de leur projet The Postal Service, avec l'aide de Jenny Lewis (ex-Rilo Kiley).
Ils ont su donner vie au side-project le plus populaire de tous les temps, avec l'ajout de b-sides de très bonne qualité.
Petit coup de cœur pour ce final sur Brand New Colony très émouvant.
17. HURTS (Pukkelpop)
Une très bonne découverte dans le cadre d'un festival, le concert des anglais d'Hurts était grandiose, ils possèdent un répertoire de titres bien efficaces (Sunday, Miracle, Stay...) taillés pour les stades et les gros festivals.
Public bien à fond et des lancers de fleurs en prime, ça fait vraiment plaisir de voir des groupes dans ces conditions.
16. Russian Circles (Le Divan Du Monde)
Concert de dernière minute pour ma part, je ne sais toujours pas pourquoi je n'avais pas pris ma place tellement le trio de post-metal Russian Circles est l'un des meilleurs du moment.
Post-rock, metal, math-rock, tout y passe à la perfection, le groupe maitrise parfaitement son sujet.
Je rentre toujours aussi bien dans leurs sets et je conseille vivement de voir Russian Circles en 2014 s'ils repassent.
15. Jagwar Ma (Pukkelpop, Pitchfork Festival)
La bonne découverte estivale fut Jagwar Ma, ce groupe venu d'Australie et bien décidé à faire remuer son public.
Au Pukkelpop comme au Pitchfork Festival, j'ai apprécié l'ambiance que dégage le groupe et les morceaux diaboliquement efficaces.
14. ...And You Will Know Us By The Trail of Dead (La Maroquinerie)
Habitués de mes tops concerts depuis toujours, Trail of Dead était revenu dans une Maroquinerie remplie au 1/3.
Ce n'est pas pour autant que le groupe a voulu la jouer cool, le bassiste s'étant un peu shooté à la coke en backstage, il a carrément mis le feu au public venu aussi en découdre.
Un concert maitrisé, puissant, ravageur et donc forcément mémorable.
13. Bob Mould (Primavera Sound)
J'ai choisi d'aller voir Bob Mould pour un set "classique", un an après l'avoir vu jouer Copper Blue en entier au Pukkelpop.
Ici, il a mélangé parfaitement Sugar, son dernier album solo que je trouve vachement efficace et bien sûr, du Hüsker Dü repris par des fans déchainés.
J'ai vraiment apprécié l'énergie du set qui donne sévèrement envie de taper du pied (merci Jason Narducy de Telekinesis/Superchunk à la basse et Jon Wurster de Superchunk à la batterie) et la bonne humeur générale du concert.
12. Cut Copy (Le Trabendo)
Après la frustration du non-concert au Pitchfork Festival 2011, Cut Copy est revenu faire bouger les foules dans la salle du Trabendo.
Même si le concert a mis un peu de temps à se lancer, Cut Copy est vraiment une machine rave efficace et qui sait fédérer son public grâce aux tubes Heart on Fire ou encore Lights and Music.
11. Sigur Ros (Le Théatre antique de Fourvière)
Ayant loupé les islandais au Zénith, je décide de voyager jusqu'à Lyon pour voir Sigur Ros au Théatre antique de Fourvière, le soir d'une belle nuit d'été.
N'ayant jamais vu le groupe en véritable concert, j'ai pris une sacré claque comme il fallait : le chant de Jonsi était évidemment parfait et le dernier album Kveikur se défend très bien en live.
J'ai adoré la bataille de coussins sur Hoppipolla (tradition de Fourvière) et voir Jonsi se faire victimiser par des coussins venus de toute part : pricelss !
10. Franz Ferdinand (Pukkelpop, Rock en Seine)
S'il y avait à désigner LE groupe de festival, je citerais Franz Ferdinand sans hésiter.
De passage au Pukkelpop et à Rock en Seine, j'ai apprécié la cohésion et l'hystérie collective qui unit le public sur leurs tubes qu'on ne présente plus.
Je n'ai jamais été déçu par les écossais, je ne pense pas non plus que cela arrivera prochainement d'ailleurs...
9. Built To Spill (La Maroquinerie)
Built To Spill est un groupe que j'adore et le fait qu'ils viennent jouer dans ma salle favorite était vraiment la cerise sur le gâteau.
Même dans mes rêves les plus fous, la
setlist
ne pouvait être meilleure que celle ci.
J'aime particulièrement le côte bipolaire de Doug Martsch : le côté ultra mélancolique, presque emo avec des chansons comme I Would Hurt A Fly et l'autre côté sunny pop comme sur Fly Around My Pretty Little Miss... finalement, c'est un peu moi tout ça.
8. Television - Les Savy Fav - Godspeed You! Black Emperor - Dinosaur Jr. (ATP Festival curated by Primavera Sound)
Dernier ATP UK pour toujours, il fallait bien finir en beauté avec ce monstrueux samedi où toutes les grosses pointures se sont enchainées.
Television a joué intégralement
Marquee Moon
, un très chouette album que je ne connaissais pas et que j'ai vraiment aimé.
Les Savy Fav ont fourni la dose de WTFLOL grâce à un Tim Harrington qui va toujours plus loin dans le n'importe quoi.
Godspeed a livré 2 heures de post-rock avec des moments forts comme Mladic et World Police and Friendly Fire.
Dinosaur Jr. a assuré le final avec leurs plus grands tubes, devant un public de fanboys.
THANK YOU ATP!!!!
7. Touché Amoré (Point Ephémère)
Le Point Ephémère était bien rempli pour accueillir Touché Amoré comme il se devait.
Gros pogos et chants des premiers rangs dans le micro de Jeremy Bolm, il y avait l'ambiance que j'attendais d'un concert de Touché Amoré.
Tout le monde connaissait par cœur l'excellent dernier album
Is Survived By
, qui complète bien les autres albums, une véritable soirée qui défoule après une longue journée de travail.
6. GOAT (Primavera Sound)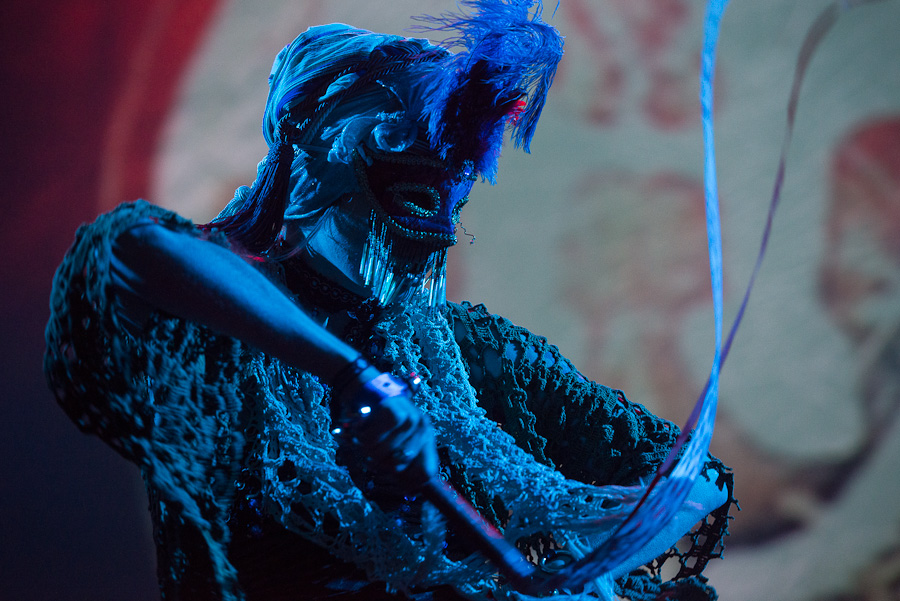 Le mystère plane encore sur l'identité du collectif GOAT mais une chose est sûre : c'est définitivement le meilleur groupe suédois live de l'année.
Danseuses masquées, psyché, world music et funk wah-wah à gogo, le set de GOAT est unique et sonne incroyablement bien en live.
Mention spéciale au final sur The Sun The Goat aussi heavy qu'un Black Sabbath, qui m'a littéralement déposé sur place, j'ai mis 20 minutes à me remettre du concert.
5. Major Lazer (Pukkelpop)
Je n'attendais pas grand chose du concert de Major Lazer, remplaçant de Neil Young and Crazy Horse, headliner de la journée.
Le mix en lui-même était sympa mais j'ai plus apprécié le show et l'euphorie générale du public.
Tout y était pour que le show soit une immense fête : utiliser les secrets de Wayne Coyne pour mettre l'ambiance (le crowdsurf dans un ballon géant, les confettis) ou encore faire un Harlem Shake géant, le plus grand d'Europe.
Le trio accompagné de 2 danseuses de dancehall ont vraiment conquis la foule avec notamment un
lancer de tshirt
ou encore un "
twerk contest
" sur
Bubble Butt
assez épique, où des filles du public sont venues littéralement bouger leur cul....bref, un set vraiment très fun.
4. Nine Inch Nails (Rock en Seine)
Après le concert vite oublié du Pukkelpop, j'ai vu Nine Inch Nails avec le public parisien de Rock en Seine qui n'était pas du tout dans le même état d'esprit que les belges.
Ici, NIN était venu jouer devant son public et on sentait vraiment la ferveur que dégageait le public.
Trent a été reconnaissant et a livré probablement son meilleur set de sa tournée européenne.
Le show visuel était incroyable, malgré que la nuit n'était pas totalement tombée et sa voix frolait la perfection, quelle voix !
Rien à redire sur ce concert, qui mélange bien les ambiances violentes des débuts avec les morceaux trip-hop downtempo des derniers albums.
3. Earthless (Le Nouveau Casino)
Ma grosse claque psyché stoner de l'été, c'était Earthless : 1h30 de morceaux instrumentaux, avec du solo wah-wah à profusion, qui te donne vraiment envie de faire un contest d'Air Guitar... ce que fera d'ailleurs le guitariste de Mirror Queen pendant au moins 20 minutes au premier rang du Nouveau Casino.
Le groupe était parfait : Isaiah bien sûr à la guitare mais aussi la basse écrasante de Mike et sans oublier la frappe précise de Mario Rubalcaba.
Un concert sonique, puissant, stellaire, bref c'était de la folie tout simplement.
2. Thee Oh Sees (Primavera Sound, Le 104)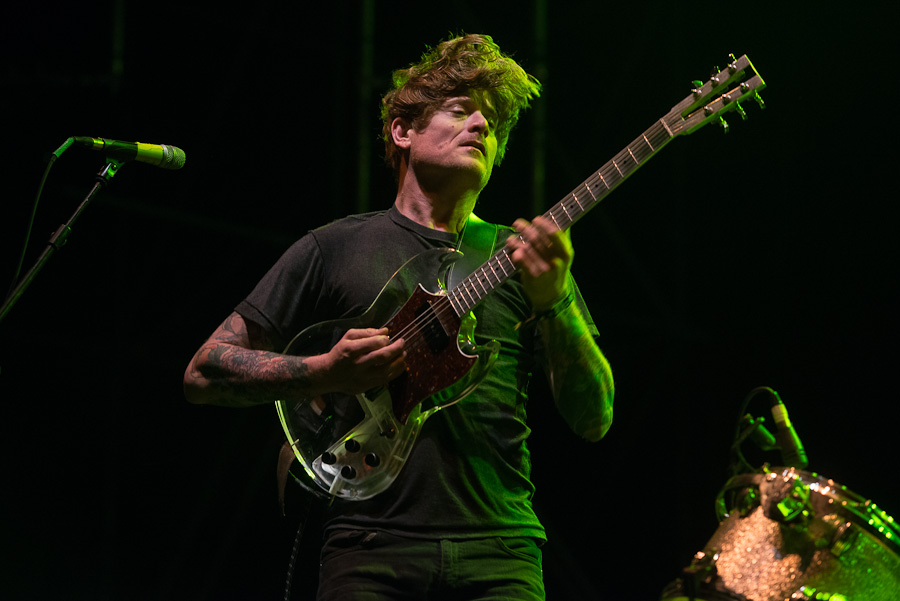 La référence du garage de San Francisco Thee Oh Sees a livré des sets explosifs au Primavera et au 104, grâce à leurs morceaux affreusement efficaces et au dernier album Floatting Coffin qui est vraiment très bon.
Pogos et gros headbanging au rendez-vous, Thee Oh Sees sait mettre l'ambiance dès les premières notes de leurs classiques.
Dommage que le groupe vient d'annoncer son hiatus indéfini car je voulais vraiment les revoir en 2014...
1. And So I Watch You From Afar (La Maroquinerie, ArcTanGent Festival)
On termine le top avec le groupe qui a su mettre tous le monde d'accord cette année : And So I Watch You From Afar.
J'ai vu le groupe à la Maroquinerie, un très chouette concert mais le meilleur restera celui du ArcTanGent Festival, le nouveau festival Math/post-rock anglais.
Le concert était fou du début à la fin, le public était chaud bouillant avec des pogos dans tous les sens.
Le batteur s'est même permis un
stage dive
pendant qu'une fille le remplaçait pendant
"S is for Salamander"
.
Le set était très dansant, parfois décoiffant quand on arrivait aux morceaux du premier album.
ASIWYFA reste un jeune groupe montant mais qui possède une maitrise déconcertante, je ne peux que saluer leur réussite car c'est amplement mérité.
Ils repassent en février au Batofar, concert que je recommande vivement.
Top supports :
Hop Along (indie emo)
Delta Sleep (math rock)
Royal Thunder (stoner doom)
Swearin' (indie pop/punk)
Chelsea Wolfe (goth folk)
Koji (acoustic)