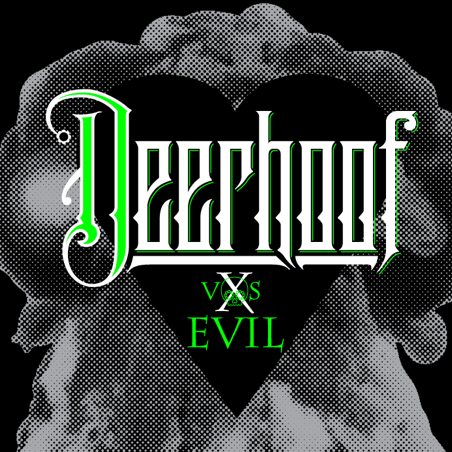 Sorti le 25 janvier chez Polyvinyl/ATP, Deerhoof Vs Evil est le 10ème album du groupe DIY Deerhoof.
Comment appréhender un nouvel album de Deerhoof ? On ne l'appréhende pas mais on subi la folie inventive de ce groupe qui a su se faire un nom parmi la scène indépendante américaine.
A l'époque où Deerhoof sortait 1 disque par an, des disques mélangeant tous les genres et souvent inclassables, on pouvait s'attendre à une certaine évolution puisque ce disque sort 3 ans après Offend Maggie en 2008.
L'album a été
leaké
volontairement morceaux par morceaux à travers différents sites. En France, c'est
MagicRPM
qui s'est chargé du boulot.
Deerhoof c'est "an experimental band minus all the things you hate about experimental". Comme je suis assez réfractaire à tout ce qui est expérimental et cérébral et que j'aime énormément Deerhoof, je ne suis pas d'accord qu'il soit tagué "expérimental" non plus. On peut comparer ce groupe assez facilement aux Fiery Furnaces, dont le cerveau Matthew Friedberger a aussi une certaine manie à déstructurer ses compositions.
Les morceaux de Deerhoof ne comportent cependant pas autant de piano que ceux de la famille Friedberger, et sont beaucoup plus noisy par moment.
Ces 2 groupes sont certainement les groupes américains les plus intéressants à écouter, mais surtout les 15 ans de carrière de Deerhoof sont un véritable régal pour quelqu'un qui s'ennuie profondément avec la musique ces temps-ci.
Tracklist :
01. Qui Dorm, Només Somia
02. Behold A Marvel In The Darkness
03. The Merry Barracks
04. No One Asked To Dance
05. Let's Dance The Jet
06. Super Duper Rescue Heads!
07. Must Fight Current
08. Secret Mobilization
09. Hey I Can
10. C'Moon
11. I Did Crimes For You
12. Almost Everyone, Almost Always
Comme à leur habitude, les albums de Deerhoof n'ont pas de ligne directrice particulière, ça part dans tous les sens avec des morceaux pop semi-acoustiques (No One Asked To Dance, I Did Crimes For You), de l'expérimental teinté d'électronique (Hey I Can, Almost Everyone Almost Always) ou d'autres bizarreries déstructurées habituelles (Qui Dorm Només Somia, The Merry Barracks).
Cependant, cet album n'est pas trop une démonstration du potentiel de Greg Saunier, le batteur, qui est un véritable monstre en live et sur des albums comme Apple O' ou Milk Man (seul la fin de Secret Mobilization est un peu nerveuse).
On s'en rend compte assez rapidement avec la version Deluxe possédant 2 morceaux live :
Panda Panda Panda
et
You Can't Sit Down
, tous 2 extrait d'un live à New-York :
Une grosse boucherie.
Ce que j'ai vraiment apprécié sur ce disque, ce sont des morceaux presque abordables par quiconque : Behold A Marvel In The Darkness et Super Duper Rescue Heads! où Satomi Matsuzaki chante toujours d'une façon trop adorable. D'ailleurs, elle a su conservé une voix juvénile au fil des années, ce qui fait aussi l'un des charmes du groupe.
Autre point remarquable, la qualité de mixage de l'album, il a été enregistré et produit entièrement par le groupe lui-même et le résultat est plutôt remarquable. Let's Dance the Jet est un bon morceau instrumental où le groupe joue un petit jam bien sympa.
A écouter sur Spotify: Behold A Marvel In Darkness, No One Asked To Dance, Let's Dance The Jet, Super Duper Rescue Heads!, Secret Mobilization, Hey I Can
Verdict :
Au fil du temps, Deerhoof continue à produire des très bons disques sans jamais être totalement bluffant, ni décevant.
Personnellement, je trouve ce disque très abordable et l'un des plus pop jamais crée par le groupe de San Francisco : Pas trop noisy et Satomi a une voix toujours aussi fluette.
C'est pas le disque qui va faire augmenter le nombre de fans par milliers, mais ajouter à la longue discographie de Deerhoof, ce disque a clairement sa place à coté de Friend Opportunity, Milk Man ou Apple O'.
En ce début d'année, l'audace de ce groupe apporte une certaine fraicheur, comme l'album solo de Matthew Friedberger, qui s'est posé le challenge de sortir 1 album par mois : le dingue !
Deerhoof fera une grosse tournée française en Avril, dont 1 date à la Maroquinerie le 19 avril 2011!
7/10