Comme chaque année fin avril se déroule le
Groezrock
, la grande messe du punk/hardcore en terre belge.
Cette année, je trouve le lineup correct sans être "dingue" avec quelques exclusivités comme la réunion de
Texas Is The Reason
, dont le chanteur avait déjà participé à l'édition précédente en solo (oui, j'étais parmi la vingtaine de personnes dans sa tente acoustique).
La tête d'affiche de la première soirée est
Rise Against
, qui s'impose en headliner incontestable sur un peu tous les festivals punk rock du monde (Riot Fest, Warped Tour...) et signant la fin de la première journée orientée Metalcore au Groezrock.
On aurait aimé voir Quicksand mais l'emploi du temps de Sergio Vega au sein de Deftones empêche la formation de jouer au Groezrock. On se contentera du set acoustique de
Walter Schreifels
, qui avait joué avec Gorilla Biscuits l'année dernière également.
Rocket From The Crypt
Les légendaires
Rocket From The Crypt
de John Reis seront de la partie à ma plus grande surprise, après des années d'inactivités.
Sachant que j'admire énormément Speedo (guitariste aussi des Hot Snakes, Drive Like Jehu ou des Night Marchers) et que je le considère un peu comme l'un des meilleurs guitaristes rythmique, je ne dirai pas non à un deuxième tir de roquette à Meerhout.
Au Trabendo, leur set Rock'n'Roll à toute allure n'a pas perdu de sa magie.
Masked Intruder
Halte ! Les
Masked Intruder
vont rentrer chez vous par effraction et conquérir votre coeur !
C'est un peu le thème cheesy de leurs pop-punk songs tirés du très réussi premier album sorti chez Red Scare l'année dernière, réédité chez Fat Wreck Chords cette année.
J'ai découvert l'album gràce à Punknews.org à la fin 2012, mais je crois que c'est l'album que j'ai le plus écouté cette année ! Il aurait même fini dans mon podium si je l'avais découvert avant.
Peu de personnes savent qui ils sont réellement, beaucoup de gens pensent à un side-project de Teenage Bottlerocket... En tout cas, l'album est d'une qualité rare, on sent quand même de l'expérience derrière tout cela.
Le Groezrock possède vraiment des pépites pop-punk (Motion City Soundtrack l'année dernière) et cette année, on pourra y découvrir des morceaux irrésistibles comme ce
Heart Shaped Guitar
.
AC4
AC4 est un groupe de punk hardcore suédois dont le chanteur n'est autre que Dennis Lyxzén de Refused, qui avait effectué une headline du Groezrock et un retour phénoménal en 2012 (
top 1 pour moi
).
Cette fois-ci, il se fera plaisir et se contentera de l'intimiste Etnies Stage pour déchainer les foules avec leur punk old school revival, cette époque où les morceaux ne durent pas plus de 2 minutes.
OK, ça clashe avec Samiam mais je suis certain que Lyxzén confirmera encore une fois qu'il a la plus grande présence scénique de tous les temps.
Seul hic : le batteur Jens s'est fait la malle juste avant le début de la tournée qui débute cette semaine. Il est cependant remplacé au pied levé par un autre batteur.
Sparta
Les mecs de Sparta sont eux aussi retournés avec leur groupe après avoir joué quelques dates avec At The Drive-In l'année dernière. J'ai pas été emballé par ATDI à cause de la non-implication de Rodriguez-Lopez mais j'ai trouvé la triplette de Sparta excellente !
Ma seule occasion de les voir prochainement, je ne les louperai pas c'est certain!
FLAG
2013 signe la guerre des réunions "
Black Flag
" avec d'un côté Greg Ginn et Ron Reyes sous le nom originel et de l'autre, Keith Morris, Chuck Dukowski ou encore Bill Stevenson qui reprennent les premières années sous le simple nom de FLAG.
Le Groezrock aura cette dernière formation, ce qui me convient parfaitement car c'est l'époque que je préfère (je n'aime pas trop les Black Flag époque Rollins).
J'espère simplement que Morris sera en forme après ses ennuis de santé en début d'année. Pour rappel, il a du annuler des dates avec son nouveau groupe OFF!...
Wasted
!
...And You Will Know Us By The Trail of Dead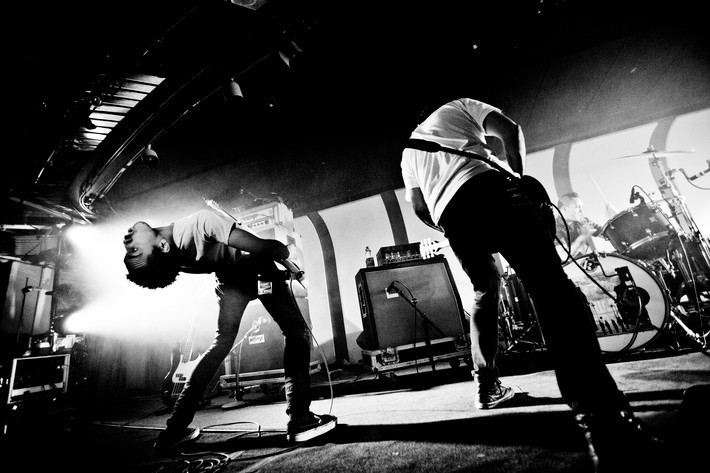 Si vous n'êtes pas encore séduit par ce groupe au nom à dormir dehors, j'espère que leur set au Groezrock va vous faire changer d'avis.
Vu 3 fois en salle de concert, à chaque fois c'était la grosse claque : un show choatique et une énergie incroyable qui met tout le monde d'accord.
Je ne sais pas comment va être accueilli au Groezrock mais en tout cas, les morceaux de cette tournée sont orientés "punk" !
Bad Religion
On fini par la deuxième tête d'affiche, les légendaires
Bad Religion
qui ont un abonnement au festival tous les 3 ans.
Il faut dire que le lobby Epitaph est très présent au festival et qu'on peut difficilement dire non à Bad Religion.
Ils méritent cette place ici car leur dernier album,
True North
, est excellentissime ! En tout cas, j'ai jamais autant accroché à l'un de leurs albums dernièrement et les bonnes vieilles recettes du punk rock marchent à merveille... un de mes albums de l'année.